News of Robotics and Multiperception Lab
Last modified on Fri, Jul 21, 2017
MISSION
Our mission and dedication are to create intelligent systems that can autonomously operate in a complex and diverse environment, with multiple perception approaches. We are fascinated by novel robot concepts that are best adapted for acting with large-scale and dynamic environments and different terrains. We are furthermore keen to give them the intelligence to autonomously navigate in challenging environments. This includes novel methods and tools for human-robot interaction, perception, cognition, knowledge abstraction, mapping, learning, representation, planning, and execution.
NEWS
07.2019 Congratulations to Lei Tai, who successfully defended his PhD thesis and met the requirements for the award!
第二届世界机器人发展青年论坛 :)
10.2018 Ming received 2018 IROS Toshio Fukuda Young Professional Award. He is being recognized: "For outstanding contributions to mobile robot path planning and control." This award recognizes individuals (from academic institutions, government, industry, or research labs) who, in their early career, have made identifiable contributions that have had a major impact on intelligent robots and systems.
10.2018 Ming and Qing Liang participated IROS 2018 in Madrid, Spain. Our paper got the Best Student Paper Finalist Award.
08.2018 Welcome new Ph.D. students Peide Cai, Huaiyang Huang, Yang Liu, Hengli Wang, Sukai Wang and Xiaodong Mei joinning on Aug, 2018.

08.2018 Ming is on the review committee board of Israeli Ministry of Science and Technology.

08.2018 Ming presented Keynote talk and joined discussion at the APAS Annual Showcase.
07.2018 Ming and Muhammad Usman Maqbool participated CYBER 2018 in Tianjin. Our paper got the Finalist of Best Paper Award.

07.2018 M Usman Maqbool Bhutta and Liang Qing are invited to introduce Lisee Technology at IET-YPEC 2018.
07.2018 Our paper "Autonomous exploration of mobile robots through deep neural networks" was selected as one of top read articles from International Journal of Advanced Robotic Systems.

07.2018 Welcome new lab member Rui Fan joining on 3rd July, 2018.

06.2018 Prof. Ming Liu attended and served 2018 CCF-GAIR as Session Chair in the Computer Vision section.
06.2018 Prof. Ming Liu participated GIV 2018 and gave a keynote talk.
04.2018 Group of French visitors, including the consul general Mr. Eric BERTTI, visited us.
04.2018 The minister of education of China visited us.
05.2018 Bhutta, Muhammad Usman Maqbool won Audience Award in Campus Challenge @ HKUST - Transportation
04.2018 The president of Country Garden visited us.
02.2018 Ming will serve IROS 2018 as Associate Editor

02.2018 Ming is now IEEE Senior Member, thanks to the support and help of everyone!

09.2017 Thanks to the team work, we successfully participated and contributed to the "Robotics Day" of HKUST. Over 20+ media including TVB, China Daily, Xinhua Net, Sina, Yahoo, covered our work within the first 12 hours!!
Sample reports: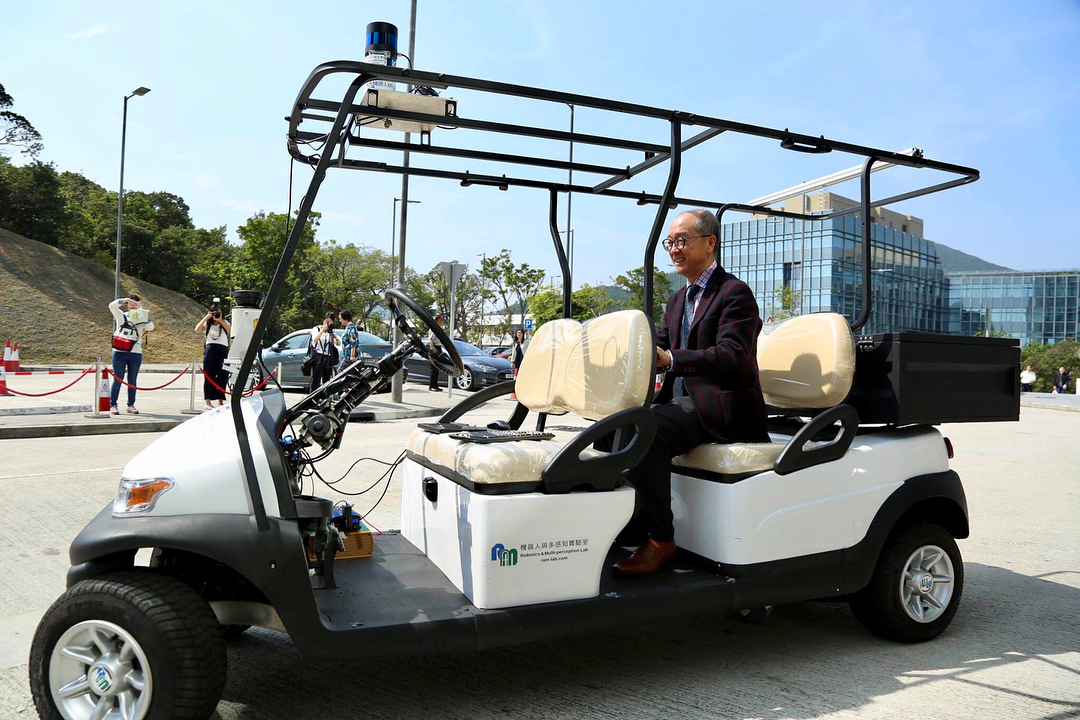 11.2017 The first worldwide robotic development youth forum was successfully held. ;)
第一届世界机器人发展青年论坛 :)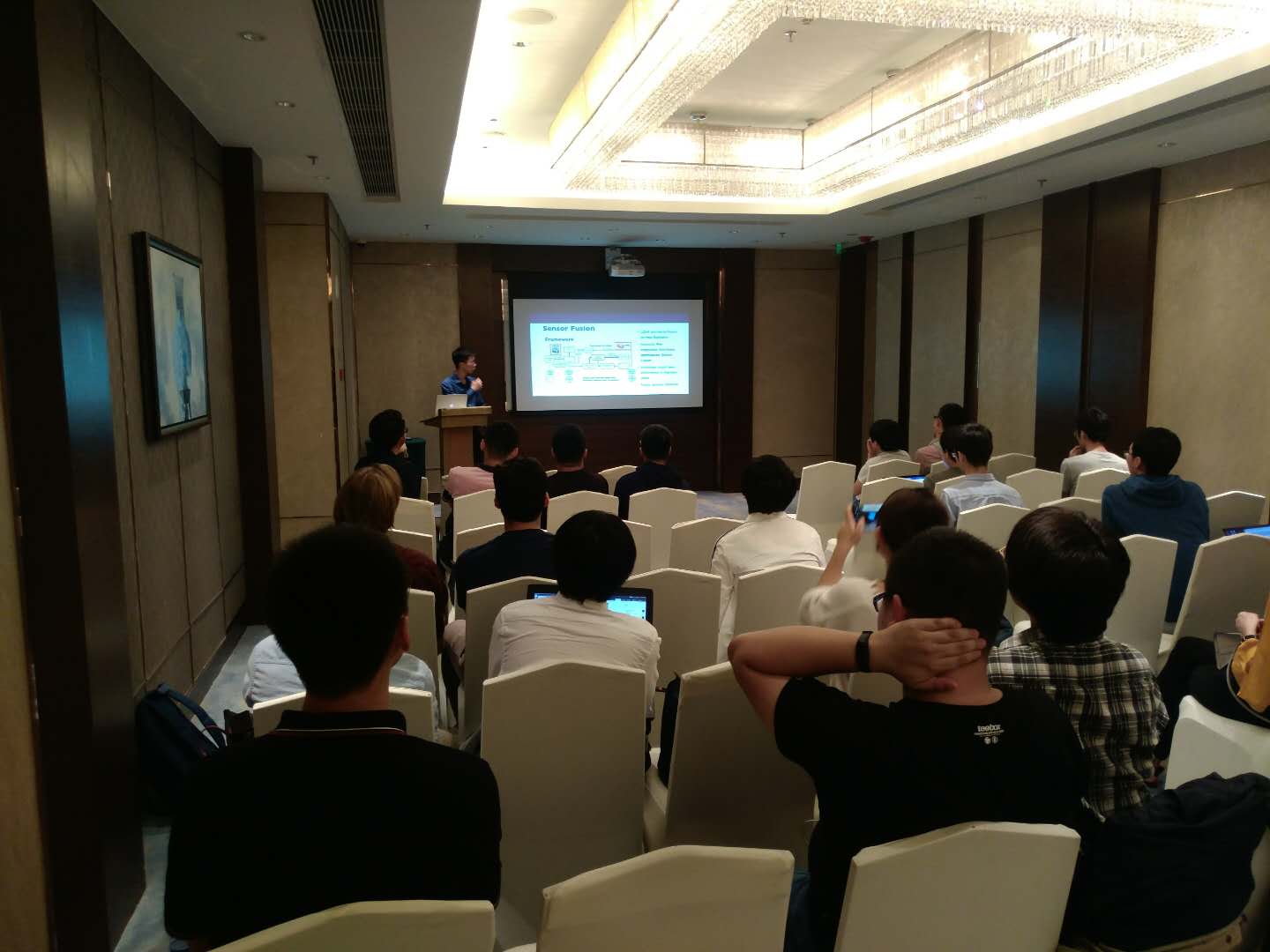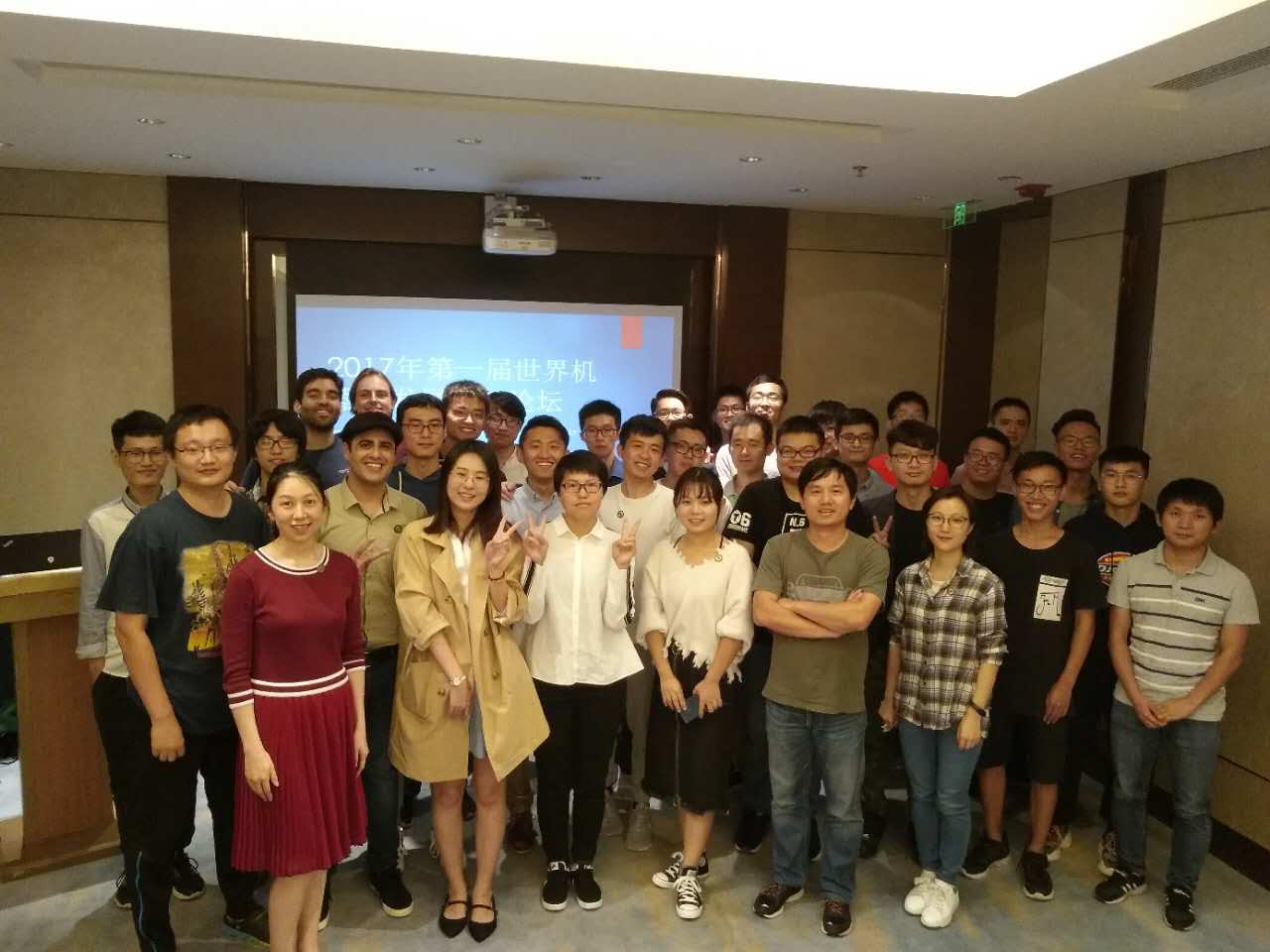 09.2017 Our new book Computer Vision Systems is published. A review link is at: link

09.2017 Ming and Lei attended IEEE IROS 2017 in Vancouver, Canada.

09.2017 Ming will serve IEEE IROS 2019 as organization committee member.

09.2017 Ming starts serving CONICYT (Comisión Nacional de Investigación Científica y Tecnológica, Chile) as engineering panel reviewer.

09.2017 Ming will serve IEEE ICRA 2018 as Associate Editor.

09.2017 Ming starts to serve Robotics and Automation Letter (RA-L) as Associate Editor.

08.2017 Ming presented "How Robot Learns" for IEEE Transmitter as representative of China area.
08.2017 Ming will serve 2017 AAAS Science - Robotics International Alliance Conference, as Program Chair

08.2017 Ming will serve 2019 IEEE Conference on Control Technology and Applications (CCTA 2019) as local arrangement co-chair.

08.2017 Welcome new PhD students: Yun Peng, Jiao Jianhao, Yu Yang

08.2017 Welcome internship students, Liu Aoming

08.2017 Welcome new project research assistant, Liu Tianyu

07.2017 Our paper Point-cloud Compression Using Data Independent Method - A 3D Discrete Cosine Transform Approach got the Best Paper in Automation Award of IEEE-ICIA 2017.

07.2017 Welcome internship students, Shayan Nazemi

07.2017 Welcome lab secretary, Lu Sujie

07.2017 We successfully hold the ICVS 2017 in Shenzhen, China, 9-12 July. Overall, there were 18 technical sessions including three plenary and keynote talks by Prof. Roland Siegwart, Prof. Hesheng Wang and Prof. Yongchun Fang. Over 85 participants enjoyed the three-day event with us. Thanks a lot for your great support and kind help!
The selected papers from ICVS will be published by Lecture Notes in Computer Science, LNCS, Springer later this year.
12.2016 Welcome PhD student Ms. Yuying Chen to join us!

12.2016 Ming will serve IEEE CYBER 2017 as regional Program Chair, in the USA.

12.2016 Ming will serve IEEE MFI 2017 as Co-Chair for publicity, in Korea.

10.2016 From 29.10.2016 to 06.11.2016, we participate InnoCarvinal at HKSTP with the project "B-free in City" (Cybathlon) and "IntoRobot Platform".

10.2016 We won the 3rd Prize in 6th Wu Wenjun Artificial Intelligence Science and Technology Award with partners. Link

10.2016 Ming participated HCR 2016 in Shanghai and gave keynote talk, China.

10.2016 We participated IROS 2016 in Daejon, Republic of Korea. left to right: Lei, Ming Lei presented our paper about deep learning in robotics pdf and our recent work on deep reinforcement learning (arXiv:1610.01733v1).

10. 2016 We represent CityU, cooperating with B-Free company, to take part in the Powered Wheelchair Race of Cybathlon Competition in Zurich, Switzerland organized by ETH. Our team, B-Free in City, safely completed all tasks with full-marks and 358s in the final race and ranked first in B-Final and 5th in all teams(12).

10. 2016 We participated the tea gathering of MBE Department. Lei presented a poster to new PhD. students and staffs of MBE.

10. 2016 Welcome Research Assistant Giuseppe Paolo from ETH.

09. 2016 Lei and Qinghai join the Cognitive Context Reasoning for Computer Vision (CCRCV 2016) with teamates from CUHK and Baidu. Our team cityblaze now ranks No. 18 in the preliminary round.

09. 2016 Ming serves the ICRA 2017 as Associate Editor.

09. 2016 Welcome PhD student Usman Maqbool Bhutta from Pakistan who won the shahbaz sharif merit scholarship and more than 15 news in Pakistan reported this.

09. 2016 Welcome PhD student Haoyang Ye from Zhejiang University.

08. 2016 Welcome PhD student Qing Liang from Beihang University.

08. 2016 Welcome Research Assistant Junli Wang from City University of Hong Kong.

06.2016 Summer retreat on sea:

06.2016 Ming serves the Program Committee of RSS 2016, June 18-22, 2016

06.2016 We participated the "Discovery and Innovation Gala 2016 of CSE CityU"

08. 2016 Welcome Research Assistant Lionel Trebuchon from ETH.

06.2016 Our paper on Visible Light Communication-based localization is accepted by IEEE Robotics and Automation Magazine (RAM). Congratulations!

06.2016 The 2016 IEEE International Conference on Real-time Computing and Robotics (IEEE RCAR 2016) concluded succesfully in Angkor Wat, Cambodia. Thanks a lot for all the help and support we received over the past year!
left to right: Dr. XIA Zeyang, Ming, Prof. WANG Hesheng, Dr. CHEN Haoyao

left to right: Ming, Prof. François Chaumette, Qinghai, Lei
03.2016 Lab group photo left to right: (msc student)TAN Qionghui, (PhD)LIAO Qinghai,(Dr)LIU Ming,(Exchange Master Student)Jonas Eichenberger,(PhD)TAI Lei
01.2016 Ming will serve as Associate Editor for IROS 2016 for the first time.
01.2016 Welcome new robot member – Baxter Dual Arm Robot. :)
01.2016 We are finally move to our new lab place.
---
End.2015 May each and every day of yours be renewed with lots of happiness and love. Happy new year 2016!

"Tomorrow, is the first blank page of a 365 page book. Write a good one." ― Brad Paisley

12.2015 Ming participated ROBIO 2015 in Zhuhai. We won Finalist for Best Student Paper Award.

11.2015 Ming participated the congregation at HKUST with former lab graduates: Yangang, Kejie and Guoyang.

11.2015 We released the calibration toolbox for omnidirectional camera, please visit GitHub for detail.

11.2015 Welcome Research Assistant Sun Jinhong. She will be working on IoT and mobile robot.

10.2015 Welcome exchange Master student Jonas Eichenberger from ETH Zurich. He will be working on visual navigation for the whole semester.

09.2015 Ming Liu participated IROS 2015, Hamburg.

09.2015 Autumn lab retreat to sailing!


09. 2015 We have submitted four papers for ICRA 2016, with collaborators from EPFL, ETH, CUHK and HIT.

09. 2015 Welcome PhD student Qinghai Liao!

09. 2015 Welcome PhD student Lei Tai!

08. 2015 Ming Liu starts a new job as an Assistant Professor at MBE of City University of Hong Kong

08. 2015 Ming will be the Program Chair for the IEEE Conference on Real-time Computing and Robotics (RCAR)

08. 2015 Guoyang Xie is graduated as MPhi., with thesis "Semantic mapping based localization for autonomous driving". Congratulations!

07. 2015 Kejie Qiu is graduated as MPhi., with thesis "Visible light communication-based indoor localization and path-planning system". Congratulations!

06. 2015 We have won the Best Conference Paper Award at IEEE-CYBER, Shenyang! Congratulations!

03. 2015 We released deep-learning library for scene labelling and object recognition in real-time, at LinkYou can refer to our paper from RCAR: : Shaohua Li, Huimin Huang, Yue Zhang, Ming Liu, A Fast Multi-scale Convolutional Neural Network for Object Recognition, Invited Paper for the 2015 International Conference on Real-time Computing and Robotics (RCAR 2015), Finalist for Best Student Paper Award, June 23-26, 2015, Changsha, China

09. 2013: Ming will start a new job as a visiting Assistant Professor at ECE of Hong Kong University of Science and Technology; Group Photo by 2013: